A new law in West Virginia that bans abortions on babies with Down syndrome comes into effect today.
In March, West Virginia Governor Jim Justice signed a pro-life bill that takes another step to end abortion and protect unborn children from abortion.
State lawmakers passed a bill that would ban abortions on babies with Down syndrome — often the target of abortions when prenatal tests indicate the baby may have the condition. With just five minutes left in the regular 60-day session, the Unborn Child with Down Syndrome Protection and Education Act (SB 468), a bill supported by West Virginians for Life (WVFL), was successfully passed in the Senate of West Virginia by a two-pronged vote of 27-5 after an 81-17 vote in the United States House of Representatives earlier in the day.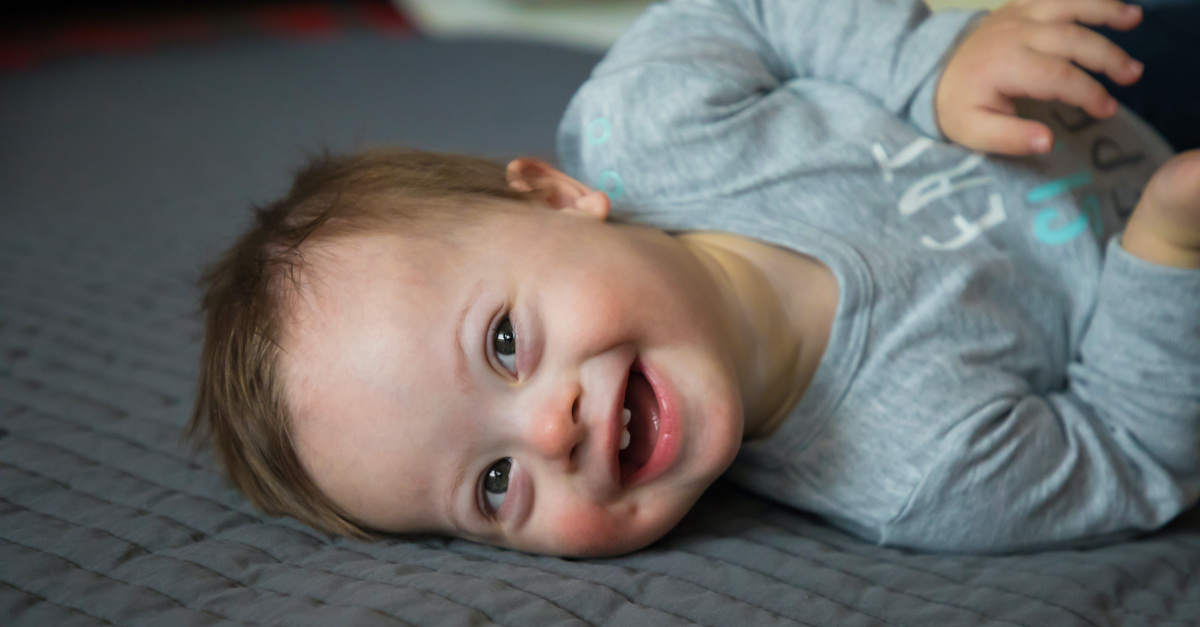 The new law will protect unborn babies from abortion due to a diagnosis of a disability. It will require doctors to provide educational materials and information about the support systems available to families raising children with disabilities.
Justice said it was necessary because of the discriminatory way some babies are targeted for abortions.
"It just seems discriminatory in my book," Justice said.
Justice signed the bill on World Down Syndrome Day. World Down Syndrome Day is celebrated on March 21 to advocate for full integration into the society of people with Down syndrome.
Follow LifeNews.com on Gab for the latest pro-life news and info, free from social media censorship.
Pro-life group Susan B. Anthony List welcomed the signing, and its chair Marjorie Dannenfelser told Lifenews: "West Virginia today takes a bold step forward in the fight against eugenic discrimination in America. Research shows that 99% of people with Down syndrome live happy lives, but instead of being nurtured and taken in far too often, they become the target of destruction in the womb, where they are most vulnerable. We are proud to stand alongside West Virginians, the community of self-advocates, and their loved ones who call on our nation to 'embrace, not erase' Down syndrome."
"We are grateful for Governor Justice's prompt action and to all of our local pro-life allies, especially our National Pro-Life Caucus members Del. Kayla Kessinger and Senator Patricia Rucker, who worked tirelessly until the final minutes of the session to provide these vital protections enshrined in law. As we await a decision in the historic Dobbs case, we hope the people of every state will soon have the opportunity to modernize our laws."
Earlier this year, the 6th U.S. Circuit Court of Appeals allowed a bill in Tennessee that prohibits discriminatory abortions based on gender, race, or prenatal diagnosis of Down syndrome to go into effect while the lawsuit continues. The Court further stated that it would hold off on hearing the case until after the U.S. Supreme Court decides Dobbs v. Jackson Women's Health Organization. This case will examine whether all pre-viable abortion limits are unconstitutional. The Court heard pleadings in the case on December 1, 2021, and a ruling is expected by the summer.
The main sponsor was Senator Patricia Rucker, with co-sponsors Senators Mike Azinger, Donna Boley, Charlie Clements, Amy Nichole Grady, Robert Karnes, Mike Maroney, Mark Maynard, Rupie Phillips, Rollan Roberts, Randy Smith, David Stover, Dave Sypolt, Eric Tarr, Jack Woodrum, and Patrick Martin. The main sponsor of the house of accompanying account HB 4337 was Deputy Kayla Kessinger.
"Killing an unborn child because of a disability is an extreme form of discrimination against people with disabilities," said West Virginians for Life Political Liaison Karen Cross. "I am so proud of the West Virginia Legislature for protecting these vulnerable babies with disabilities from abortion."
Click here to sign up for pro-life news alerts from LifeNews.com
A Marist poll (January 2021) found that of 1,173 adults surveyed, 70% "oppose abortion because of the expectation that a child will be born with Down syndrome".
Following the win, Ingrid Duran, State Legislative Director of the National Right to Life (NRLC), said, "The National Right to Life Committee applauds the great state of West Virginia for stopping eugenic abortions and providing beneficial resources to families who have been diagnosed with a disability in their unborn child."
WVFL President Wanda Franz, Ph.D., pointed out that "a significant body of research conducted worldwide over the past few decades has shown that women who chose to terminate a pregnancy because of fetal abnormalities compared with those who gave their babies over time, they run the risk of serious, long-term psychological problems."
Republican Senator Mike Azinger, a bill sponsor, said during the discussion that parents are often incorrectly told that their baby has Down syndrome or are pressured to abort such a child.
"I see on Facebook that these parents are holding a baby who is supposedly going to have all sorts of problems at birth, maybe not even be alive anymore, and they're just fine," he said. "Or the prognosis before birth wasn't nearly as bad as what it turned out to be."
This legislation requires a healthcare professional who administers or has a test performed for a physical, emotional, or intellectual disability or diagnosis to an expectant or new parent, upon receipt of a test result indicating the presence of a disability, that the pregnant or new parent provide educational information made available by the WV Department of Health and Human Resources.
Mary Anne Buchanan of West Virginians for Life says there are cases where the prenatal diagnosis is misdiagnosed, such as this story from Hilda Shorter, chapter leader of WVFL Raleigh County Chapter.
"The doctor called us and said there was a good chance my grandson Cooper would be born with Down syndrome and told my daughter she had ten days to decide to have an abortion. She continued: "Four years later, we had our precious grandson Dalton, who has Down syndrome. He was born perfect and is a very prolific 20-year-old man. He is the love of my life and of everyone he comes in contact with!"
More than 90% of family members indicate that they have love and happiness with a family member with Down syndrome. In addition, 99% of people with Down syndrome report being happy.