The pro-abortion extremist group, Jane's Revenge, took credit for vandalizing another maternity center in Iowa this month, the latest in more than 30 attacks since news broke of a leaked draft ruling in which the U.S. Supreme Court ruled. v. Wade this summer.
Axios reports that Jane's Revenge boasted online about the vandalism of the Agape Pregnancy Resource Center in Des Moines on June 2, saying activists broke into windows and wrote threatening messages.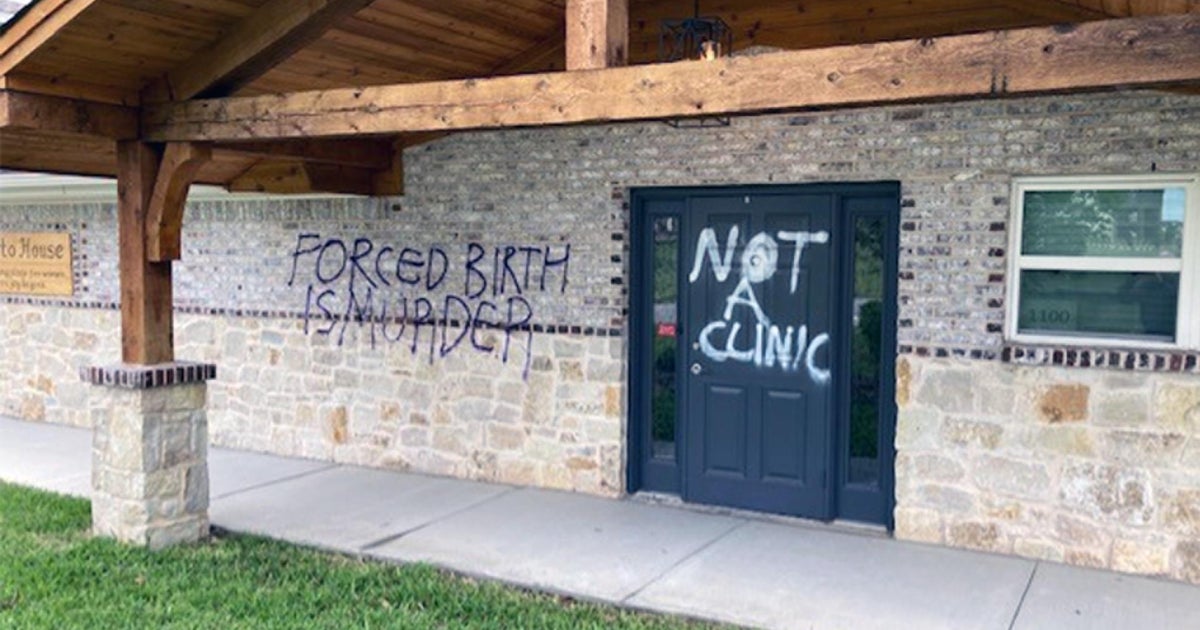 The Des Moines Police Department confirmed they are investigating.
According to a June 9 post on Twitter, the group has admitted to the crime.
"On the night of June 2, 2022, we vandalized Agape, a prominent crisis pregnancy center in a low-income area of ​​Des Moines, Iowa," Jane's Revenge wrote in the post. "It was fun and easy."
According to the group, pro-abortion extremists broke windows and wrote, "God loves abortion", "This place is not safe," and "Stop lying" on the building.
SUPPORT LIFE NEWS! If you want to fight abortion, help LifeNews.com with a donation!
Axios reports that the maternity center, which provides free counseling and material support to pregnant and parenting mothers, was closed Friday and did not respond to a request for comment. It also noted that the vandalism was not visible outside the building later Friday. For more information or to donate, visit Agapedsm.com.
The report is the latest in a growing series of attacks on pro-life organizations and churches. At least four arson targets, including one early Friday, have been vandalized since May, and dozens have been damaged.
Catholic News Agency reports that Jane's Revenge has admitted responsibility for many acts, although little is known about the extremist group.
It has been linked to the firebombing of Wisconsin Family Action, a pro-life organization based in Madison, and vandalism of pro-life organizations and churches in Washington State, Maryland, Florida, New York, and Washington, DC. It's not safe; neither are you" this is common in vandalism.
Online posts from those claiming to be part of Jane's Revenge demand "the dissolution of all anti-choice institutions, fake clinics, and violent anti-choice groups within the next thirty days."
Online reports also suggest the group plans a "Night of Rage" once the Supreme Court judges the Mississippi abortion case Dobbs v. Jackson Women's Health, likely later this month.
Here's more from CNA:
The size of Jane's Revenge is difficult to determine. While the first communiqué claimed to have support across the U.S. in every city, the May 30 report claims its move will be "unsustainable" if it continues to rely on "the same few hundred people."
The group's second statement, published on May 30, calls for activism and creating "autonomously organized self-defense networks".
"We can no longer stand by as our anger is channeled again into Democratic party fundraisers and peace parades with police."
Kyle Shideler, a senior analyst for Homeland Security and Terrorism at the Center for Security Policy, told EWTN that federal authorities seem to view these radical pro-abortion groups as "a bunch of idiotic individuals operating separately" rather than terrorist anarchist groups.
"Although they are cellular in structure, they are very organized and should be treated as an organization," Shideler said.
The report continues:
The groups say they will "escalate the violence if the government doesn't do what they want," in Shideler's words, and "that's the definition of terrorism."
He blamed a "very bad" federal response to such groups. He said federal officials wrongly treat anarchist individuals as "primarily a problem of local law enforcement."
Shideler also lamented the existence of "mainstream tolerance for this kind of behavior," similar to tolerance for political violence in 2020.
Several pro-abortion groups have called for churches, especially Catholic churches, to be targeted by abortion activists' outcry. Even Rachel O'Leary Carmona, executive director of Women's March, warned that abortion activists would be "ungovernable" until the government legalizes abortion on demand. And a group posted the addresses of Supreme Court justices' homes online.
Last week, an alleged murderer with a gun was arrested outside the home of Supreme Court Justice Brett Kavanaugh after he said he planned to kill the judge, police said.
Reports since the leak includes:
Alaska – Maternity center vandalized with nails, pro-abortion graffiti (EWTN Ireland)
North Carolina – Asheville Maternity Center Destroyed With Pro-Abortion Graffiti (Lauren Muzyka/Sidewalk Advocates for Life) (more at FOX Carolina)
New York – Abortion Activists Firebomb Pro-Life Maternity Center, Third Bomb Attack in Weeks
Florida – Pro-abortion violence continues as abortion activists vandalize Catholic pro-life bureau
Washington, DC – Abortion activists toss out maternity center: dump paint on the door, egg windows, write "revenge" on wall
Pennsylvania – Pro-Life Billboard smashed in Pittsburgh (ProLife across America)
Oregon – Mother and Child Center Destroyed; Address was published by abortion rights proponent (Catholic sentry)
Oregon – Eugene Maternity Center Destroyed With Pro-Abortion Graffiti (Andy Ngo)
New Jersey – Catholic Pro-Life Student Attacked in Public School, 7 Pro-Abortion Students Suspended (CNA) (Video)
Washington State – Radical abortion activists vandalize Pro-Life Center, smash five windows and abandon threats
Mississippi – Rural black church vandalized with pro-abortion graffiti
Oregon – Pro-Life Billboard broke in Portland: "Abort the Supreme Court" (Andy Ngo)
Washington State – Four Churches Destroyed by Pro-Abortion Radicals in Olympia (more from the Washington Free Beacon)
Alabama – Pastor, parishioners respond to vandalism at Pro-Life Women's Clinic in Auburn (Opelika-Auburn News)
Kansas – Supports Pro-Life "Value to Both" Change Report Stolen Yard Signs (KAKE)
Missouri – Pro-life student group at University of Missouri calls for dialogue after the monument was vandalized (campus reform)
Indiana – Pro-Life student lawyers pushed, grabbed from behind at Pro-Abortion Rally (Students for Life)
Maryland – Birthright of Frederick Vandalized: "F— Fake Clinics"
Maryland – Alpha maternity center in Reisterstown vandalized with pro-abortion graffiti (Andy Ngo) (more on WBAL-TV 11)
USA – Video: Pro-Life student activists kicked, pushed by pro-abortion protesters (Students for Life)
Michigan – Michigan Catholic church vandalized with satanic symbols after Roe Leak (more in The Tennessee Star)
New York City – Abortion Activists Threaten to Bomb St. Patrick's Catholic Church
Texas – Another Pro-Life maternity center vandalized in Denton (NRL News)
Virginia – Pro-Life Organization Office destroyed; Man reveals himself, urinates on the front door (Women concerned for America)
Colorado – Fort Collins Parish Church tagged with pro-abortion graffiti; police investigation (Catholic News Agency)
Oregon – Oregon Right to Life bombed with Molotov cocktail
Texas – Catholic Churches Destroyed With Pro-Abortion Graffiti
Virginia – Pregnancy Center Destroyed with Pro-Abortion Graffiti in Northern Virginia (National Review) (more from Human Coalition)
Wisconsin – Abortion activists set fire to Pro-Life Group office, throw Molotov cocktails
Texas – Pro-Life Pregnancy Center Destroyed in Denton, Texas (more from Students for Life)
Oregon, Maryland – Radical abortion activists vandalize pro-life maternity centers that help pregnant women
Texas – Pro-abortion group brags about damaging Trotter House Pregnancy Center in Austin (Stop the Sweeps ATX) (more at Maternity News)
Texas – Pro-Life University of North Texas Student Says Antifa Blasted Door, Issued Threats (Fox News)
Colorado – Boulder Catholic Church Defiled After Roe v. Wade Draft Opinion Leak (Denver Gazette)
Oregon – Pro-abortion protesters damage property in Portland after SCOTUS abortion leak (KXL 101 FM News) (more on KOIN 6)